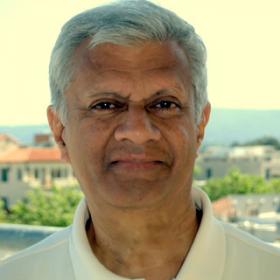 Azmat Malik has been a senior executive in technology, marketing, and operations, at major US, European and Japanese semiconductor companies.
He provides strategy, marketing and operations consulting to early and mid-stage companies on concept and product-market fit, revenue ramp, and profitable growth across the chasm. Azmat's advisees in US, EMEA, and Asia are coaxed to thoroughly validate their business direction; he will force founders to question strategy, and explore pivot options until they are convinced of their strategy. Azmat guides founders and entrepreneurs for seed, angel, and Series A funding.
He is passionate about energy, water and agriculture resource conservation and efficiency. Some areas of interest are: Power Electronics, Energy Efficiency (Demand Management and Response, Storage, Efficiency, Electric Transportation, Smart Building), Medical Devices, Sensors and MEMS. He selectively engages with founders in consumer products, fashion, and media. Azmat has broad experience in manufacturing, and relationships with contract manufacturers in Asia.
He was Associate Professor at the Lahore University of Management Sciences, teaching 2nd year MBA courses in marketing strategy, consumer behavior, and advertising. During that time he developed and delivered customized executive programs for major multinational corporations.
Azmat is active in the angel investor community.  He serves on the Executive Committee of Silicon Valley IEEE society chapter, and is President of the Engineering Alumni Society of the University of California, Berkeley. At the International Electronics Manufacturing Initiative [iNEMI] Azmat has been on Technical Working Groups on Solid State Illumination, Energy Storage, and is Chair of the Thermal Management Group.
He earned degrees in electronics engineering and business administration, MSEE and MBA, both from the University of California, Berkeley. He lives in Redwood City, California.