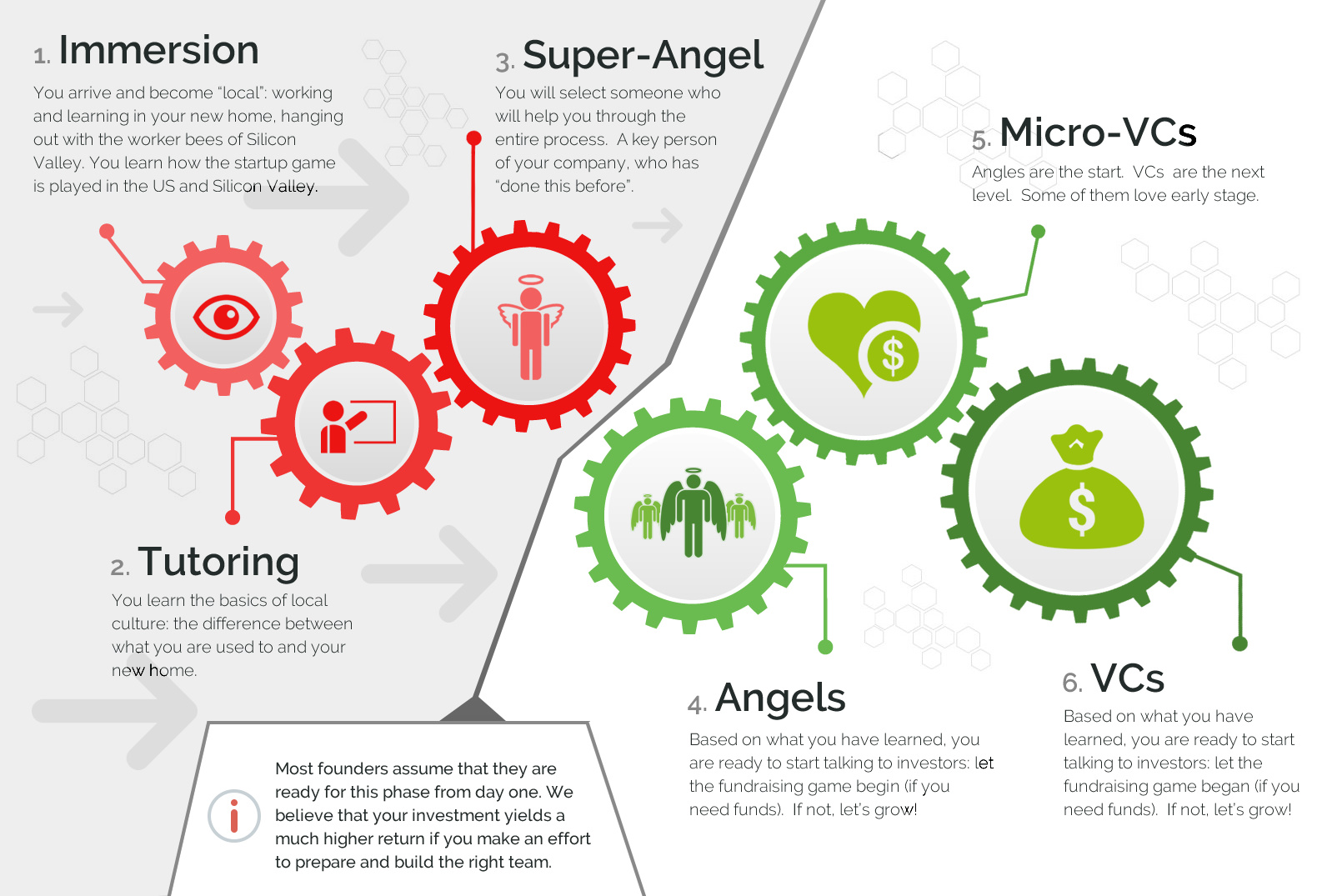 Be well sourced with enough runway to become part of the local eco-system. Come prepared so you start ahead. Focus on the one goal you want to achieve. Forget about "fundraising by tourism". People are not waiting for you with bags full of cash.
How?
Undersourced, unprepared, unfocused: "fundraising by tourism".  This are the biggest mistakes we have seen by foreign founders entering the US marketplace: let's learn from these mistakes in the process.
1) Please come with enough seed funds to spend a minimum of 3-6 month in Silicon Valley.  In our experience, any time less hurts your chances to become part of the local entrepreneurial eco-system.  Every single foreign startup we have worked with took a minimum of 6 month to break through. It is the track record that dictates this methodical approach.
2) Please do your homework and follow the trends of what interests investors in your area of expertise: are you really changing an industry or just adding a flavor to a crowded marketplace?  Do you have an idea about how to hire local staff assisting you?  Do you have an investable corporate structure?  Are you immigration issues covered?
3) Please focus on your presence vs home country operational issues: if you are "not here nor there", it will hurt your long term focus.
Most importantly: "fundraising by tourism" is not a viable option.  Come for a shorter period of time to learn, see Angel pitches and conferences, learn about the incubators here – so you can validate the above points for yourself.  Although Silicon Valley has more investment dollars for startups than the rest of the Planet combined, it does not mean that it is easy to succeed.
What?
Upon arrival, you will be visiting with best of breed incubators, accelerators, advisors, business developers, sales people etc.  Our partners are second to none.  Our goal is for you to challenge yourself and hone your skills according to the fresh learning. You could call this first phase the "adaptation phase", when you are becoming "local" in this amazing, inspiring environment.
Month two is planning time: based on what you have seen in the first 30 days or so, you will be getting into the rhythm of doing business in this special part of the World.  By now you will have friends, contacts, mentors, and an idea of where you stand in the competitive landscape.  If you need to pivot, you will.
Month three is preparation time. You will begin to differentiate yourself from your competitors, have a local support team, getting ready to sell, raise funds, do what it takes to be a Silicon Valley company.
Month four to six is crunch time: you will continue to participate at events, courses, learning opportunities, and this should never stop if we did our job together well enough. Your primary focus is results, doing whatever it takes to get the job done.