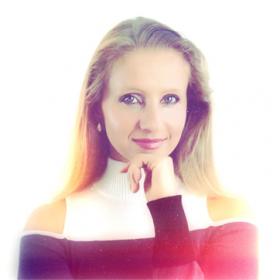 OLGA is an executive coach – a serial entrepreneur, social innovator, visionary who inspires. She consults many start-ups on operational improvements and fundraising. After graduating Kyiv National Economic University and National Academy of Management, Olga excelled in her 20+ years career in marketing management and of business consulting. She has a wide and influential network – in Silicon Valley and around the world.
Holder of multiple patents she started businesses in various industries. Olga Kostrova is known for envisioning crowdfunding, and pioneering the industry with one of the first virtual co-funding and co-ideation platforms in 2004. She invented new marketing technologies and advertising models. She has a great intuition about new trends and predicting coming market needs.
Olga advocates not only innovation, but also business excellence through emotional intelligence. She is known for facilitating unprecedented outcomes via C-suite executive coaching that led not only to increased productivity and revenue boost, but also for facilitated "spontaneous remissions!" She's helped clients heal from various physical conditions that effected client performance, including clinical depression, paralysis, diabetes and others.
Currently Olga runs Smartup IT! Ventures – social innovation accelerator and coaches entrepreneurs and executives into excellence, self-realization and top performance through emotional intelligence training, as well as strategic and tactical consulting.
She offers complimentary introductory coaching sessions to selected entrepreneurs and professionals who are interested to explore her coaching programs.