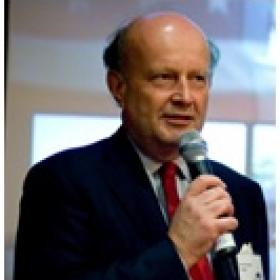 Sven Oehme is a member of the Executive Board of the Trans Atlantic Business Dialogue (TABD) which is the official dialogue between American and European business leaders and U.S. Cabinet Secretaries and EU Commissioners. He is part of the U.S. Delegation at the U.S.-EU Best Practices Workshop for SMEs under the auspices of the Transatlantic Economic Council (TEC). This U.S. Delegation is organizd by the Office of the United States Trade Representative.
Mr. Oehme was appointed Honorary Representative of the Free and Hanseatic City of Hamburg in New York by the First Mayor in 2005.
He is also founder and president of the American Business Forum on Europe started in 2002. The meetings of the American Business Forum on Europe target American business executives who are interested in doing business in Europe. Among the speakers have been a number of high-ranking ambassadors, EU Commissioners, including the later Prime Minister of Italy, Prof. Mario Monti, CEOs and Nobel Prize winner Joseph Stiglitz.
Mr. Oehme is a member of the Advisory Committee of the European Union Studies Center of the Graduate School and University Center of the City University of New York and a member of the Board of Advisors of the Weissmann Center for International Business at Baruch College. Mr. Oehme is founder and president of the American Business Forum on Europe, Inc. For more than 15 years he produced and anchored a weekly news show on public access television.
Mr. Oehme is a frequent speaker on European Union issues and the negotiations for a Transatlantic Trade and Investment Partnership (TTIP) agreement.
Until the end of 1998 he served as managing director of the European-American Chamber of Commerce in the Unites States, Inc. (EACC) and also as Vice President of the German American Chamber of Commerce, Inc. with special responsibilities for the chamber's legal department. Before joining the EACC in 1991, Mr. Oehme worked in executive positions for subsidiaries of Gruner and Jahr, the magazine and newspaper publishing division of the German media company Bertelsmann.
He studied law and economics at the University of Hamburg, Germany and is admitted to the bar in Hamburg. Mr. Oehme holds a Master of Laws degree in international business and trade law with a focus on European law from Fordham University, Graduate School of Law, New York.